I am honored that so many patients put their faith and trust in us, and allow us to improve both their smiles and their lives. Everyone deserves a smile they can be proud of, and I love being a part of the process. Seeing new-found confidence and self-esteem gives me so much joy.
Education and Continuing Education
My education has always been the most important aspect of orthodontics. It allows me to stay on the cutting edge of advances in my field, which means my patients receive the best care possible. I attended the University of Colorado and graduated in 1980. In 1986, I completed my certification at the Case Western Reserve University School of Dental Medicine.
My education didn't end with college. I am always interested in new technology and how it affects the patient experience. By utilizing the new ideas that are available, my patients can get better results in less time.
I regularly attend conferences and lectures throughout the year and am a member of a study club with three other top Colorado orthodontists. The study group enables us to compare our experiences and discuss ways to improve patient care and the overall experience.
Professional Affiliations
American Association of Orthodontists
American Dental Association
Colorado Dental Association
Metro Denver Dental Society
Rocky Mountain Orthodontics
Colorado Orthodontic Association
In the Office
Orthodontics enables me to better a patient's entire life and smile. Having healthy teeth is more than just a cosmetic concern; it strengthens the health of the body and helps prevent problems later on.
My team and I work hard to provide everything that makes the patient experience wonderful. The relationships we build with patients have lasted generations. Now I am even seeing some of my past patients bringing in their children. My team, which has more than 240 years of combined experience, makes everything possible. The staff keeps me young and really knows how to have fun.
At Home and in the Community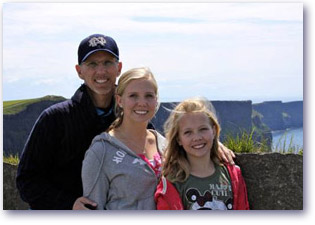 I was born and raised in Cleveland, Ohio, but I've loved calling Franktown, Colorado, home since 1986. Our house is always full of laughter, with my two beautiful daughters, two dogs, and two horses. I love spending time outdoors with my family, watching my youngest daughter's high-school sports, and traveling.
I believe in giving back to the community in which I live. We are involved in Toys for Tots during Christmas, and the Parker Task Force, and operate a candy buy-back program at Halloween. I also support many local school activities and contribute heavily to the Parker Recreation Area. You can see our T-shirts just about everywhere!